We often go through various battles in our head when it comes to making the right decision. When it involves emotionally straining choices, we turn to our friends and family to help us figure it out and when it comes to more materialistic things such as loans, we have the internet to save us most often than not.

Talking about loans, have you ever wondered what kind to choose? With payday loans being equally popular as traditional ones, many of us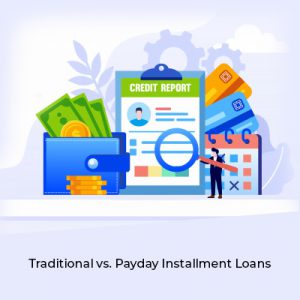 have a hard time in deciding which one to go for. Of course, the one main factor that we must take into consideration is repayment and many of us prefer paying our loan back in installments. "That of course can't come with a payday loan" is probably the thought that just popped up in your head. Do you want the answer to the underlying question in your sentence? Well, yes. You can get a payday installment loan, which obviously means that you can repay your loan over a few months.
Now, since we have discussed the fact that both traditional and direct lenders offer installment loans, here is the difference between traditional installment loans and payday installment loans, to help you make the right decision:
1) Credit Scores:
Traditional lenders- When we talk about personal/ installment loans from banks, you should know that your creditworthiness as a borrower will be determined by conducting a credit check.
What's a credit check?
When you apply for a loan with a traditional lender like a bank, going through your financial history is just unavoidable. That's because they want to find out if you're capable enough to repay, which according to them will be justified by how long you took to repay your previous loan. This will in turn be determined by your credit score which lies between 300-850 points according to FICO, with the latter figure being an excellent one. If you have anything less than around 600, it can get difficult for you to be granted with such a loan.
Now, coming to loans provided by direct lenders- most of them do not entail credit checks which means that even if you have a horrible credit rating, that won't affect your loan's approval.
2) Time Taken for Approval:
Traditional lenders- Because of the lengthy and time-consuming approval procedures that they follow, an installment loan from a traditional lender can take weeks to get approved. In case you need a loan as soon as possible in order to cater to an emergency, applying for a loan with them is probably not what you want to prioritize.
Direct lenders- Their loans take just a few minutes to approve after which you will receive it in just a few hours. This is definitely a better way to go about, when you need cash urgently. For example, if you need money to help you get through the month and your salary day is a couple of weeks away, applying for a payday installment loan is a good bet since you will be able to receive your money almost instantly.
Accessibility:
Traditional lenders- There's no way one can get a loan from a bank without visiting one. You will have to make the effort to go to their outlet near you, during their opening hours. It may be a tad bit inconvenient but if you need a long-term loan, then this is the best way to go about it.
Direct lenders– Direct lenders can be found online and are accessible to most 24×7 which means that you don't have to worry about taking out time specifically to apply for a loan. If a few hundred dollars is what you need, applying with these lenders is ideal.
If you're somebody who's in search of a loan with a longer repayment term want to apply for an amount that may be more than a couple of thousand dollars and have a decent credit score, applying for an installment loan with a traditional lender is not a bad idea at all.
However, during cash crunches and immediate monetary requirements, a direct lender is the ideal person to go to which applies to those individuals who have bad credit rating as well.
You should know that the best part about a payday installment loan is that you can get a longer repayment term as compared to a typical payday loan, with the added benefits of one.
---