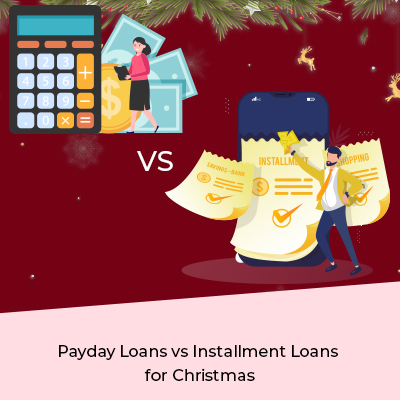 A very common concern in the minds of many borrowers during this current season, is whether they should choose a payday loan for managing Christmas expenses or whether an installment loan would be a better idea. Simply put, there is no single answer that shall be right for everyone and one's requirements and situation would play a role towards making the right decision.
Going ahead, we shall help you understand the right choice for you, sharing insights we receive being a direct lender of Christmas loans. We shall first help you understand the common reasons that encourage people to borrow funds during this season and that shall follow with comparing the advantages of payday and installment loans over one-another. We also help you understand how bad credit borrowers can get monthly installment loans and then help you find a Christmas loan easily.
Why do People Borrow Funds for Celebrating Christmas?
Christmas is the time of the year, that gets families closer and makes loved ones cherish quality time. Children and elders – all look forward to Christmas and all have their aspirations each year. Some of the aspirations and celebrations require funds. Compromising on them, may cost more than what money can pay for. For this reason, when one's income and savings are unable to cover such celebrations, people find value in borrowing money in the form of loans that can help cover the expenses.
During the festive season around Christmas, the demand for loans increases each year. As a result, some lenders increase loan charges and interest rates. It is hence considered wise by some frequent borrowers, to make the decision of borrowing a week or two before Christmas instead of borrowing funds in the last minute. Also, while some borrowers are able to or like to repay borrowed funds all at once, while some prefer or require to repay loans over months. Both these choices have their own specific advantages and we shall discuss those in the sections ahead.
Advantages of Payday Loans
Payday loans until quite recently, were the most common direct lender loans taken during the festive season of Christmas. Here are advantages that they offer to festive seasons borrowers:
Almost all payday loans are available to bad credit borrowers
A single repayment within 2 weeks, makes it a stress-free transaction for people prefer to repay it at once and can afford that
The accrued interest is typically a smaller amount as the duration of the loan is very brief
These are readily available online from many direct lenders.
Advantages of Installment Loans
As more and more direct lenders have started to offer installment loans, there are many benefits that distinguish it as a growingly preferable choice for borrowing around the festive season of Christmas:
Some direct lenders offer installment loans for bad credit borrowers too
Installment loans can help an individual working on their credit score, make multiple timely repayments, thus helping a poor score improve well over time
Multiple smaller repayments make loans more affordable for most borrowers
Installment loans typically charge lower interest rates
One's loan eligibility based on income, is typically for higher amounts when choosing installment loans versus payday loans
Some trusted and experienced direct lenders are now able to offer installment loans with the exact ease, readiness and convenience of payday loans, through a completely online process.
How can Bad Credit Borrowers get Monthly Installment Loans?
As mentioned previously, some direct lenders, such as us at CashUSAToday, indeed offer installment loans for bad credit borrowers. Being a reputed lender with years of prominence in the business, we have been able to make a safe borrowing environment for income-based loans that do not get affected by bad credit scores.
In fact, our Christmas loans have no hard credit checks and apart from just being available to borrowers with bad credit scores, these loans have no negative impact on your credit score when you choose to borrow them. The other advantage of offering no credit check loans for Christmas is that the loans can be approved and processed very quickly. This is essentially useful to many borrowers during the festive season.
So, celebrating Christmas need not remain a matter of concern and stress. With CashUSAToday by your side, you can enjoy a Christmas with your family, making no compromises and being relaxed about a friendly, flexible repayment that suits your financial requirements and repayment comfort.
Get a Convenient Online Loan this Christmas
Today, people prefer online loans when choosing to deal with a direct lender. This is because the internet makes it easy to gauge the service standards and competency of a direct lender along with the legitimacy of the lender's services.
If you're looking for a trusted online direct lender offering Christmas loans that are readily available and can be flexible to suit your needs, you need not look any further. We at CashUSAToday offer convenient online loans for Christmas and no matter how you plan to celebrate the season with your loved ones, we shall be here to support you with the funds you need.
You are welcome to follow this link to learn more about our Christmas loans. Alternately, if you are ready to take the next step and apply for our loan, you can simply head to the online loan application that helps us with all necessary details to initiate basic verifications and get in touch with you to make an offer suited to your requirements.
---