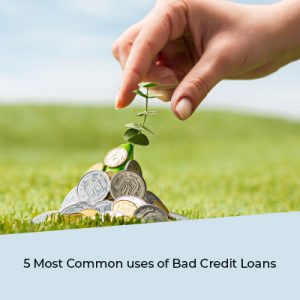 Maintaining a healthy credit score can at times take quite some planning and efforts and even despite all efforts, one may end up with a poor credit score for reasons like unplanned expenses, family financial burdens, errors in credit transaction reporting and many other factors, many of which one may not necessarily have much control upon. For such reasons, bad credit loans – despite being lesser affordable – play an important role in many people's lives.
Some borrowers tend to get used to the existence of these loans and get habituated to using them. Critics are against such misuse of these loans since the time that they exist, and it is indeed not a healthy way to go about managing one's finances.
Meanwhile, many borrowers with bad credit score, understand that bad credit loans are intended to serve only emergency or unavoidable expenses. Amongst such borrowers, the market tends to have trends of what the borrowed funds are being utilized for, and as you read ahead, you shall learn about the five most common uses of bad credit loans.
What do People use Bad Credit Loans Most Commonly for?
1. Medical Emergencies not Covered under Healthcare
The single most common use of bad credit loans as per survey data that many of our borrowers have provided us over the years, is for medical expenses that the healthcare plans do not cover. Since over 50% of the adults residing in the US do not have a healthy credit score, bad credit loans tend to be one of the only reliable borrowing options available and since most trusted direct lenders are able to provide such loan rather quickly, most emergencies can be tackled using these loans.
2. Vehicle Repairs
Another very common expense item for which people tend to use bad credit loans, are vehicle repairs. What we observe however, is that most borrowers using a bad credit loan for such an expense only do this for expenses that are simply inevitable.
3. Home Refurbishments
Some refurbishment work is indispensable – for example, a broken oven or a non-functional chimney. These are the kinds of expenses that most borrowers of bad credit loans tend to use the loan for. However, people do also borrow funds for giving the house a fresh look or having housekeeping thoroughly clean up a house, just before moving out or just before a celebration at the house.
4. Festive Season Expenses
Typically a peak time for direct lenders, festive loans like those around Thanksgiving, Black Friday, Christmas Holidays, Halloween and Easter tend to be in huge demand each year. From having uncompromised celebrations to making purchases taking advantage of festive discounts to going for a vacation, loans are extensively used during festive seasons, even by borrowers with not the best credit scores.
5. Credit Score Improvement
Some borrowers of bad credit scores choose to inform the lender well in advance, to reflect the repayments on their credit reports. They use such a tactic to repair poor credit scores, in order to get better credit options in the future. Some employers also consider the credit score of employees and candidates before offering a job or promotions and many people who use such tactics of improving their credit score, are in situations that call for this action.
Choosing a Trustworthy and Reliable Direct Lender
Looking for a bad credit loan? What you're definitely going to need to do before anything else, is to find a trustworthy and reliable lender – one that has a clean reputation. What's the easiest way to do that? Look online; look for these signs:
Prominence: A good direct lender typically has a good online presence and customer reviews that make up a good reputation.
Accreditations, certifications, etc.: Look for signs of recognition like the BBB Accreditation that our website carries.
Well-designed website: A good direct lending service shall always have a good website.
Active contact details: Direct lenders must always share their valid and active contact details and their customer service, should be easily reachable during working hours.
Transparency: In the final stage of your loan application, you shall have an agreement that spells out the details of your loan. Lenders with fair practice, ensure that the loan agreements are clear and easy to understand, making the deal transparent for the customer. Do not skip reading this agreement as it's a very important document loaded with information about your loan.
We at CashUSAToday offer installment loans for bad credit borrowers. Choosing us, you can rest assured of having received a competitive deal from a trusted online direct lender. If you'd like to initiate a loan application right away, you could head to our online loan application page and we shall use the information to get in touch with you to present offers that suit your exact needs.
---