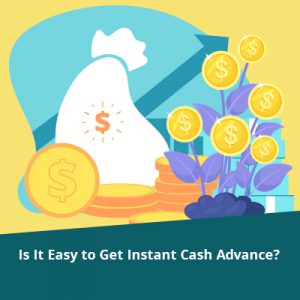 On a shopping trip, you realize you have run out of cash in your wallet, your credit card is beyond the limit, and there is not enough cash left in your bank account to draw using an ATM card; then what will you do? The next best option, for you in such a situation is to go for an instant cash advance. It can be easily availed, even if you have a bad credit score.
What is An Instant Cash Advance?
Instant cash advance, also known as payday loans, are small monetary loans offered by lenders at high-interest rates. It is a quick and easy way to get instant cash to borrowers like you when you need it most. What's more, with minimum paperwork, you can pay it back at your convenience over several weeks or months, depending on the loan contract between you, the borrower, and the lender.
In most cases, the amount released with an instant cash advance is relatively small compared to other types of loans. This depends on your cash requirement for things you plan to buy, and how much you plan to borrow.
How Instant Cash Advances Disbursed?
They are typically direct loans disbursed into your registered bank account within an hour of application approval by cheque or wire transfer.
Get instant cash advance by deciding on these four factors or questions: –
Are there any other alternatives?
How much money do you need?
When will you get the next payday, and how much?
How quickly can you return the funds?
Many businesses facilitate the online disbursement of instant cash advance. You are eligible for a payday loan if you: –
are above 18 years.
are a permanent resident or citizen of the USA.
have a fixed income.
hold an active bank account.
have a valid phone number.
Advantages and Disadvantages of Instant Cash Advances
Advantages
Easy to apply – registered lenders like CashUSAToday generally offer instant cash advances. Applying with us is easy; similarly; approvals are instantaneous.
Simpler conditions
The biggest reason you may want instant cash advances to tide over your cash crunch is that it requires fewer conditions to be met.
No credit check
Another reason which may tilt your preference for an instant cash advance is that even if you have bad credit, you will still be able to get the required cash; via instant cash advances, as lenders don't insist on credit checks.
Disadvantages
High-interest rate
If you want a term loan before an intended purchase, it is given that you know what the interest rate you need to pay, which is not very high. But if you go for an instant cash advance, you will have to pay a high-interest rate. Blindly approaching a lender without knowing the interest rate; may force you into a never-ending cycle of debt. Better to go with registered lenders like CashUSAToday.
Time constraints
While some lenders offer a repayment tenure of up to 12 months, mostly the loan repayment period is the very next payday (next week or next month). This makes it difficult for you to repay the loan in full with high-interest rates while meeting your regular monthly expenses.
Is It Easy to Get an Instant Cash Advance?
Based on the above, you may be in a quandary, whether an Instant Cash Advance is worth the risk. But don't worry, with lenders like CashUSAToday, you can avail of payday loans for as little as $100 to $1500.
Instant Cash Advances at CashUSAToday are available online at reasonable interest rates. We can help you tide over your immediate cash crunch. We provide you with a customized financial solution to cover your monetary woes, taking into account your repayment capabilities.
What we do
Process funds quickly.
Set the payday loan repayment for up to 3 months with an option to pay bi-weekly and monthly.
Issue funds up to $ 1,500.
Don't charge any hidden fees.
Dedicated support team available 24/7 to help you meet your financial requirements.
All this makes it easy for you to apply for Instant Cash Advance from CashUSAToday. Apply to get the loan and enjoy your financial freedom today.