Known as an expensive loan product, a payday loan is a typically high-interest rate loan, which is high in interest because of the high risk at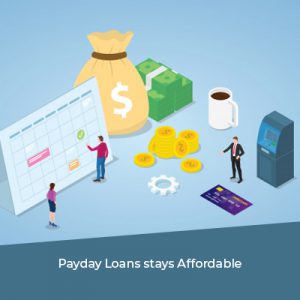 which lenders offer the loans, while the market accepts the rates due to the needs it's able to fulfill and the quickness it can do that with.
Payday loans however can be both expensive and cheap, depending on how well they are managed. What gives payday loans this unique advantage is that these loans are of very short terms and taken from the right lender, they're even flexible enough to accommodate early repayments with the benefits of reduced charges.
Here's a list of things that if done right, shall ensure your payday loan remains as affordable as possible.
Take the shortest term possible to repay
Payday loans typically charge interest at an annualized rate but depending on the number of days it's been given out for, the total amount you pay as the interest, varies proportionally. So, whatever earliest day that you're totally sure of being in a position to repay, would be the most inexpensive option for you.
Choose to deal with a reliable direct lender
Payday loans are a lucrative market at times and that draws a lot of brokers and a lot of less genuine lenders into the scene. Any third-party (broker) must add a commission and that makes loans more expensive. Illegitimate lenders can be expensive beyond reason and many times just cheat the customer and disappear. It is important to do a quick background check of the lender before taking a direct lender loan like a payday loan.
Choose a flexible deal where possible
Some direct lenders impose no penalty for prepayment. Some also offer pre-payment benefits like reduction of the total amount due. If this is an option with your lender, it can make a great saving in the situation that you're able to repay sooner.
Stick to all deadlines and if that's not possible, extend the dates ASAP
Penalties on loans are expensive. It is absolutely important to take a loan only when you know that timely repayment is very likely to be affordable for you. If at all you cannot still meet the deadline, you must extend it in the right way as per your agreement with the lender, before the actual date for debit comes and there's nothing in your account to get deducted. Most lenders allow extension with a much better deal than the penalty of non-payment.
Never take multiple payday loans and never take a payday loan to repay another
Payday loans usually do not check your credit history. This is an advantage in many ways but one of the risks here is that the lender may not know if you're making the fundamental borrowing mistake of taking multiple high expense loans or attempting to close one loan using another. Such decisions are very expensive and highly likely to end up leading to a debt cycle, ending which could be a very difficult task.
Compare multiple loan offers if you have the time to do so
There can be a significant difference in the offers you get from various direct lenders. If you have multiple options readily available, and you know that the lenders are legitimate and safe, there is no harm in comparing the pros and cons and making the choice that is the best for your situation. At CashUSAToday, we offer the most competitive deals in the industry with flexible terms and multiple repayment options to suit various needs. You can fill in our payday loan application form and we shall get back to you shortly with the offer.
---