Installment Loans serve a strong purpose in many people's financial plans. With today's robust and constantly evolving lending market, one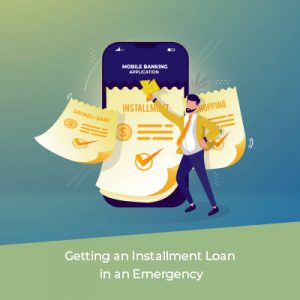 no longer needs to keep savings to address any and every emergency. Some emergencies can be addressed with savings while others can be addressed by a combination of savings and borrowings or using borrowings alone.
When borrowing is chosen as the way to go, there are several options:
Borrowing from friends and family
Loans from Banks
Credit Card Loans
Payday Loans
Direct Lender Installment Loans
While the first three options may not be suitable in every way for emergencies and/or may not be available to many people, the latter two are considered by millions during emergencies.
Most people in emergencies may not be capacitated to repay payday loans on time and hence installment loans from direct lenders tend to be a preferred choice for addressing such needs.
The key then, is to associate only with a trustworthy direct lender that can provide installment loans with a guarantee.
What Makes a Loan Ideal for Emergencies?
There are a few points that make a direct lender installment loan ideal for emergencies. These are:
Some direct lenders guarantee approvals subject to loan eligibility
A loan that can be applied for easily and can get approved and credited quickly is ideal for emergencies
People prefer online loans during emergencies as they do not need to physically present with a lender or a broker to procure the loan
A loan that can skip the credit check (No Credit Check Loans) can serve more people and reduce lead times, making emergency borrowing more feasible
A loan with flexible repayment options is more ideal than one with lesser flexibility.
Identifying a Trustworthy Direct Lender of Installment Loans
During a time of need when there's a lot already going on, what a borrower really must avoid is the risk of having applied for a loan from an illegitimate lender. Sine non-bank direct lenders do not have the same level of prominence as most banks, ascertaining the trustworthiness of a lender is an important part of choosing a loan. Here are quick and simple ways to know that a lender is trustworthy:
Check for online presence of the lender's services
Avoid brokers for emergency loans as they have the potential of causing delays
Look for genuine feedback of the lender's services online
Look for accreditations like BBB and website security certificates
Look for a contact number and an email ID being present on the website and being valid
Stay away for a lender that offer suspicious deals like "one month installment free", "30% discount on installments", etc.
Apply for a Guaranteed Installment Loan from a Direct Lender
At CashUSAToday, we provide guaranteed approvals of installment loans for borrowers who meet our fairly basic eligibility criteria:
Proof of stable income (current employment)
SSN as a proof of permanent residence or citizenship of the United States
18 years of age or older
Active savings bank account
With CashUSAToday, you can rest assured that you're applying for exactly what you need – a guaranteed installment loan from a trusted direct lender only. If you would like to directly head to our online loan application form, here's the link for your convenience.
---