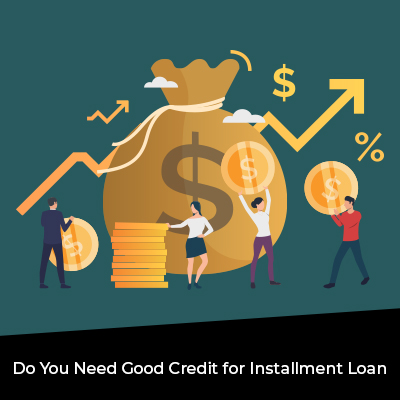 People, especially those who are the first time borrowers, often wonder if they need a good credit score to avail an online installment loan. The same question is also very important for the people with bad credit for the obvious reason. They all want to feel assured before they apply for a loan. Unfortunately, quite some lenders do not accept a bad credit score in order to approve an installment loan. They either encourage you to go for an expensive payday loan that offers limited cash or ask to pledge collateral to take out an installment loan. It is not very surprising given the fact that they don't want to fund a borrower who is a potential loan defaulter.
A bad credit score is never an impressive thing when it comes to your credit history. It is a sign of a delinquent borrower that doesn't pay back the debt on time. The financing companies that lend money to people do not want to lose it and they depend on your credit score to find the trust factor. However, no matter how difficult it seems, you don't need a good credit for an installment loan if you are applying with lenders like CashUSAToday!
Why You Don't Need a Good Credit for a Cash Loan
If you are a potential cash loan borrower with a bad credit or no credit history, then don't stress yourself with the question if you really need a good credit. The answer is simple- NO! Bad credit and having no borrowing experience is acceptable at CashUSAToday! You can get online installment loans up to $1,500 from us with no credit check where no collateral is required.
If you are wondering why we are taking such a risk while other lenders do not fund people with imperfect credit score, then our answer is simple. We believe in the present – not in the past. If you are capable of paying off a debt, you deserve to be funded. That is our policy. Therefore, we just take your income status into consideration while approving your loan application. Our monthly payment cash loans are easy to avail with a superfast online application process which guarantees instant approval even with a bad credit status. Just make sure to provide authentic details as well as income proof to secure an installment loan for bad credit on the same day. Apply now!
---