Payday loans seem to have a ton of speculations that come with it. Sometimes, people with bad credit wonder if they can get approved for a payday loan, while sometimes youngsters wonder if they can get a chance to get approved for one.
Most youngsters may be doubtful about being able to receive one due to the rules that apply to payday loans regarding the age, and also because youngsters usually don't have credit histories to rely on when it comes to applying for a loan.
While taking into consideration the fact that majority people in the United States start working at the age of 18, the above statements can be quite relatable.
Why Does an 18-Year-Old in the U.S. Need a Payday Loan?
When one just starts working, s(he) may or may not have financial support from his/ her family, since not all families may be financially secure enough to contribute to the independent lives of their younger ones.
Of course, an 18-year-old may be old and educated enough to get a decent job, but will surely need some extra funds to run the independent life that he dreams of, in the beginning of his/ her career.
That's exactly when payday loan lenders can be of great help.
Can 18-Year-Olds Get Payday Loans?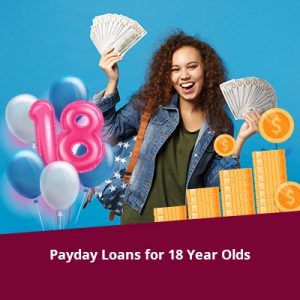 Yes, indeed they can. The policy and rules followed by payday loan lenders and laid down by the government is that any individual who is above the age of 18 is eligible to apply for a payday loan. So, as long as you are at least 18 years old or above, you shall be welcome to apply for a payday loan with the eligibility terms applicable to everyone else. That means, that as long as you're 18 years or above and meet the requirements of a payday loan lender, your application shall not be turned down only because of your age.
The simple eligibility terms of payday loan lenders allow almost everyone to get funded, and very easily.
Can 18 Year Olds Get Payday Loans with No Credit History?
As a matter of fact, payday loans have garnered a lot of attention by borrowers only because they as such do not typically rely on one's credit rating in order to fund them. Payday loan lenders offer loans that come with no credit check since not only does this give more surety of being approved to the borrower, but it also doesn't waste much time when it comes to approving a loan.
Instead, majority payday loan lenders depend on one's income statement in order to fund him/ her, and as long as it is a stable one, they should in most likelihood be willing to provide you with the funds that you need.
Amounts and Rates
Most payday loan lenders do not offer more than a few thousand dollars, since these are short-term loans that are required to be repaid on your next consecutive pay date. However, in most cases, if your next immediate pay date is less than a week away, you shall be liable to repay your lender on the pay date after that.
When it comes to the rates of interest of a payday loan, what you should know is that they are fairly higher in comparison to traditional loans. But that's because the amounts that these lenders offer are so low in comparison to other kinds of loans that if they do not charge a decent rate of interest, they will hardly earn just a few pennies.
In case repaying your loan in lump-sum seems like a challenge to you, you can always opt to apply with a lender who offers online installment loans instead. Installment loans from direct lenders online are loans that are quite similar to payday loans, while barring the fact that one is required to repay them in lump-sum. As the name suggests, installment loans are required to be repaid in parts over time (say 3-6 months) which makes it fairly easy on the pocket when it comes to the time of repayment.
When you choose to apply for an online loan, it is always ideal to do your homework, consider your options and choose the one that suits you the most, so as to avoid pushing you into a debt trap of any kind or also making it difficult for you to manage your other expenses.
---