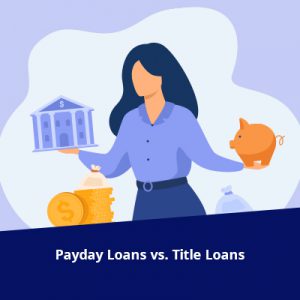 Short-term loans can be a quick and easy solution to one's financial problem, given that they don't take too long to process and are offered to bad credit holders as well. There are various kinds of short-term loans among which the more popular ones are payday and car title loans. Short-term installment loans are also becoming widely popular but let's discuss the former two for today.
Even though both payday and car title loans are short-term loans, they do come with various differences in terms of eligibility criteria, processing information for approval and also repayment terms.
How Are They Different?
Payday Loans: As the name suggests, payday loans are required to be repaid on one's salary date or pay date, i.e. when they receive their next consecutive salary after taking the loan. Payday loans can be found both online as well as at a store. The convenience that online payday loans offer apart from their eligibility terms that are fairly easy to meet, is the fact that one doesn't have to specifically take out time to visit a store-based lender for a small cash advance. Instead, one can apply online itself at a time that suits him/ her the most.
The repayment term of a payday loan typically lasts for about 2 weeks.
Also, payday loans come with the benefit of being offered to bad credit holders, without them having to worry about offering collateral. Under no circumstances whatsoever, do payday loan lenders ask their borrowers to offer collateral.
Payday loan lenders depend upon the income statement of a borrower in order to approve a request for a loan from them. As long as a borrower who wants a loan from a payday loan lender has a stable source of income on a monthly basis and meets the other simple eligibility terms of the lender, s(he) should have no problem at all when it comes to being funded.
The amount of cash that payday loan lenders offer is usually not too much with most of them offering just a couple of thousand bucks.
Car Title Loans: Car title loans are slightly different from payday loans. Even though they are short-term loans as well, they have different terms with regard to their repayment terms as well as their eligibility criteria.
Car title loans typically come with repayment terms that last from anywhere between 15-30 days. Unlike payday loans, they come with a wider repayment window. Many car title loan lenders do not depend on one's credit rating either, in order to fund a borrower. However, they do ask for collateral, which typically is a borrower's car. A borrower has to offer his/ her car as security in order to receive a car title loan. What happens when a borrower fails to repay his/ her loan? The car gets seized by the lender.
So, why do people take car title loans instead of just applying for a payday loan? The cash that the lender offers for a car title loan is way more than what a payday loan comes with.
Nevertheless, the amount of cash offered to a borrower by a car title loan lender shall depend on which car the borrower puts up as collateral. Depending on the selling price of the car, the lender offers a certain amount to the borrower.
---