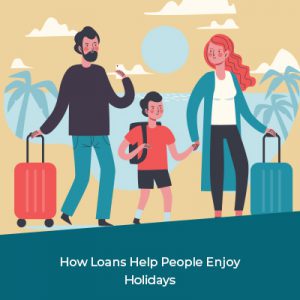 The holiday season is ahead and you wonder how to manage your finances in a way that your family can enjoy with no compromises? What many prefer to do, is choose a suitable holiday loan. Given today's options, getting a loan online is an easy task, and takes not much time at all. When you choose CashUSAToday as your lender, you can get a holiday loan:
Even if you have bad credit scores
At any time using our online application process
With no delays, no credit checks, no paperwork, and no faxing
With friendly features like flexible repayment options, automatic deductions,
Loans can be easy or hard to secure and useful or disastrous, depending upon various factors and how well you manage your loan application and repayment. Done right, a loan can be a useful tool that can fund your needs at the right time, without getting too expensive and without becoming a burden.
Loans for Travel Expenses
For families and many individuals too, holidays are a time to shop, travel and have fun! None of these can be done without some cash and when there's a need for cash, a loan can be of help. People often choose to borrow funds during holidays and use them towards travel and related expenses, as many households tend to earn a constant income while the expenses may not be as constant.
Small personal loans, such as, our holiday loans, can be an ideal option for people who need a quick solution to manage their holiday expenses when they shall be in a position to repay the loan as per the schedule. Should there be any issue with managing timely repayments, we offer flexibility that helps reschedule payments, shift dates around and/or change payment patterns between monthly and bi-monthly options (subject to timely communication and as per the terms and conditions agreed to, in the loan offer).
Loans for Shopping
Holiday time for a lot of people is also shopping time and with all the amazing promotions in the market, why shouldn't it be? Loans often help people do the shopping they need, enabling them to pay later when convenient. Some use credit card EMIs, some use personal loans and some use various other convenient monthly payment options available.
However, if you are looking for a solution that is available to you without an existing relations ship (e.g. a credit card or a pre-approved loan), or one that accepts bad credit performance, we are here for you. Our loans are readily available for everyone, and credit scores don't deem you ineligible for our service.
Black Friday Loans & Cyber Monday Loans
Black Friday and Cyber Monday are known as the best times for shopping your heart out. Many storekeepers, online shops, and brands stock up their inventories with variety and offer beneficial deals of the sort that may not be feasible to do on other days of the year. While loans do see a peak demand during such periods, some loans are available with no added expenses during this season.
Loans for Celebration
Celebrating a festive season can also be financially burdening. Loans are what many people use to offset the burden and spread it across a period that's more manageable given their income. Holiday loans are often used by people towards celebrations and since such loans are personal, one doesn't have to prove the way the money is used.
Christmas Loans
Amongst all loans that are used for celebration, the most common ones are those taken to celebrate Christmas. Christmas is seen as a family time where everyone gets together to spend quality time and when money is what it takes, a loan can be the answer.
Get a Holiday Loan with CashUSAToday
CashUSAToday provides quick and convenient holiday loans that can be repaid in multiple installments that are offered with flexibility, subject to the assessed eligibility and estimated affordability of the borrower. A simple online form is all that it takes to get you a suitable loan offer. Upon acceptance of the offer, we disburse loans with no delays and credit funds directly to your account.
---