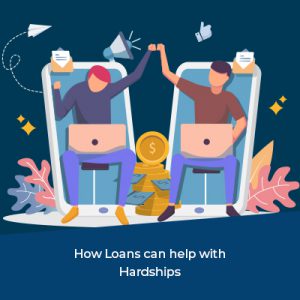 A financial hardship is often an inevitable situation in the lives of most individuals. Few today have the ability, opportunity, need and expertise to plan and prepare finances such that no situation can be financially challenging. The market today hence offers solutions in the form of loans, to address this situation. For almost all financial hardships, there are likely to be loan options out there, that can serve as temporary solutions.

Quick Solutions for Emergency Financial Needs
One of the key features of a loan suitable for financial hardships and emergencies is quickness. Any loan designed for challenging situations must be fast at providing decisions (or approvals) and at crediting the funds.
At CashUSAToday, we provide quick loans that are suitable for most financial emergencies and hardships. You can access funds through us even if you're a first-time user. Loans from our service are typically approved in a few business hours and upon acceptance of our loan offer, funds are typically processed as a direct deposit with no delays.
Loans can also Help Bad Credit Borrowers
Many think that bad credit completely closes all borrowing doors. However, this is not true. Many loans in the market are designed specifically for bad credit borrowers, while many other loans are also available which simply don't get impacted by whatever a borrower's credit score is. Installment loans from CashUSAToday are available to bad credit borrowers and these loans are approved primarily based upon the borrowers' income.
Remember that Loans are Only Intended to Serve as Temporary Solutions
Loans, especially those that are made available to bad credit borrowers are always designed to serve as temporary solutions. Using short-term loans as long term financial solutions or taking up multiple loans at once are easy ways to get into financial trouble. When you take out a loan to address a financial hardship or an emergency, it is hence important to repay the loan on time. Extending loan tenures, delaying payments or using loans to repay loans can become exponentially expensive and can have a devastating impact on your finances.
Get an Installment Loan from CashUSAToday
CashUSAToday provides easy-to-apply installment loans that have a quick approval and processing system. Our application process is fully online making it even more suitable for emergencies as borrowers never need to physically be present at any particular place in order to secure a loan from us. Moreover, we also require no faxing or paperwork whatsoever.
If you face financial hardship and are looking for a loan, simply hit the "Apply Now" button and the loan application shall be all it takes to get the process rolling. A customer service expert shall shortly work with you on a loan suitable to your requirements.
---