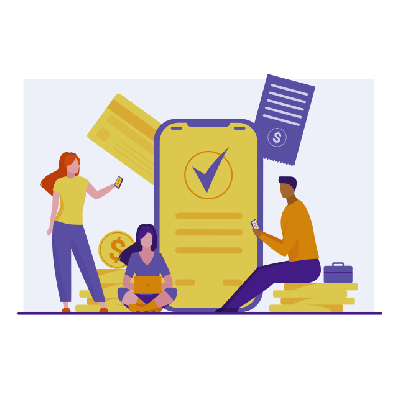 In a situation of financial uneasiness, the last thing you want to think about is how hard it is to receive or pay back your money. When already going through a though monetary phase, payday loans are your one stop solution because of how easy a process they entail, when it comes to the exchange of transactions. However, when addressing the question "are payday loans easy to repay?", we have to also take into consideration the fact that everything comes with a price, which means that something as easy as a payday loan may also have certain disadvantages.
What we're getting at, is the fact that payday loans are expensive when compared to traditional ones. Even though they offer various other benefits which other loans do not come with, their high interest rates are certainly a drawback.
Before applying for a payday loan, it is important to know what you're getting into in terms of APRs. If you believe that it isn't that big a deal to repay what your loan adds up to, then going ahead with the idea is beneficial. However, if the rates of interest seem too high for you to be able to repay them, then you can fall into a difficult situation which is when you may realize that repaying a payday loan isn't all that easy monetarily.
If you fail to repay your loan, you may have to face certain consequences that may not be the most pleasant. Even though one cannot go to jail since the non-repayment of a payday loan isn't stated as a criminal offence, you will still have to face the pressure of debt collectors. Apart from that, if your lender decides to take it to court then things may become more straining for you and you will also have an undesirable record or borrowing which may make it quite difficult for you to receive a loan thereafter.
Hence, if you aren't at the best place with regard to your income and ability to repay, taking a loan that requires you to pay back a huge interest rate may not be the best option for you and such situations can fall under the category as "hard to repay payday loans".
When talking about the means of repayment of your loan, you should know that it is a cakewalk. Apart from some lenders who may require you to pay them back by check which may require you to deposit it at your bank, majority of them follow ACH (Automated Clearing House) which makes transfers quick and easy.
Most online direct lenders ask for your checking account details, whose information they use to transfer funds to you. When you apply, some of them may give you the option of choosing between an ACH or a manual deposit, or may offer just one of them. If you choose to repay via ACH which is an option that helps you avoid taking out time to travel, write a check, etc. then the amount you owe to your lender will get automatically debited from your account.
When talking about the way of repayment, online direct loans are definitely an easy way to go about it as compared to traditional loans. However, one must always take the factor of "being able to pay back" into consideration before applying for any loan, and payday loans are not excluded from it. Even in the case of an automated deduction, you must ensure that your checking account has the amount of funds required to close your repayment in order to avoid going round and round in a debt circle.
---