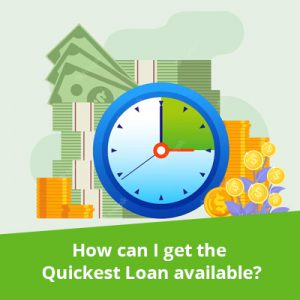 In need of some emergency cash but need to figure out whom to contact? Well, you may be surprised to know that few options are available for getting fast money in times of urgency. You can easily opt for the available options and get the quickest loan possible. Read till the end to know more about the quickest loan choices.
Some Common Loan Options For The Quickest Loan Possible
Nowadays, customer's requirements are important to get fulfilled. To do that, there are many fast, easy loans available in the market that can satisfy your needs in times of emergencies.
You can easily opt for a quick loan without delay if you have a good credit score. But, in case of holding up a bad credit score, you can still get a fast cash loan by staying within the eligibility criteria of a few lenders.
Some of the common types of quick cash loans are mentioned below:
An Installment Loan For Getting A Quick Loan
An installment loan is a type of loan where the borrower repays the loan amount in fixed periodic payments (known as installments) over a specified period of time. The amount and frequency of payments are agreed upon when the loan is first given to the borrower. Examples of installment loans include personal loans, mortgages, and auto loans.
You can apply for an installment loan by providing the following details listed below:
Determine the type of loan you need: Before applying for an installment loan, decide what type of loan you need, such as a personal loan, auto loan, or mortgage.
Check your credit score: Check your credit score before applying for a loan so that you can have a better understanding of your loan options.
Gather required documentation: Most lenders will require proof of income, employment, residency, your social security number, and other personal information.
Submit your application: Fill out the loan application, providing all the necessary information and documentation.
Review and sign loan agreement: Once approved for a loan, review and sign the loan agreement, which outlines the terms and conditions of the loan.
Receive the loan funds: Once you have signed the loan agreement, the funds will be disbursed directly into your account.
Get the Quickest Loan with A Personal Loan
A personal loan is a type of loan that can be used for numerous purposes, such as making a large purchase, making unexpected payments, and clearing off any previous loan. They have a fixed interest rate, fixed repayment term, and monthly payment and can be obtained by online lenders. To apply for a personal loan can vary from lender to lender. Still, the basic process remains the same, which includes providing details like proof of income, employment, residency, social security number, and other personal information to the lender. Once the lender approves the loan application, you can receive the loan quickly, as the application process is short and simple.
Quick Loans for Emergency situations
As the name suggests, these are types of personal loans designed to be obtained in emergencies to address unexpected financial needs, such as unexpected expenses. These loans typically have quick approval processes and are often provided with higher interest rates due to the higher risk to the lender. They are meant to be used for short-term financial support and not as a long-term solution. Sometimes, you can get the funds on the same day if your application gets approved before a certain time.
Loans are approved in short Time
Same-day loans are the type of financing that can be approved on the same day of applying. These loans are taken out to get quick funds that can be utilized at the very earliest. The application process for these loans is quick, and funds are released much quicker than in comparison to traditional bank loans. However, it is important to understand that these loans can come with higher interest rates and fees, so it's best to go through the terms and conditions carefully.
You can easily get same-day loans if:
You apply before 5:30 p.m. Central Time;
You hold a debit card associated with your checking account; and
You meet normal loan requirements stated by the lender.
Steps To Get A Fast Loan Online
To obtain a fast loan online, follow these steps:
State your requirements – While getting a loan, decide on the type of loan you want to apply for. There are various types of loans, including personal, payday, and title loans. Choose the one that best fits your needs. This will allow you not to waste your time deciding at the last minute and decreases your chances of obtaining what you don't need. You may get the funds much faster if you're sure about your choice and requirements.
Collect necessary documentation – When applying for a loan, keep all documentation ready so you can complete the application form without hassle and in a few minutes. Some basic documents include – proof of income, social security number, personal information, and a valid checking account.
Apply online – Apply for a loan online instead of physically going to the lender, as this will decrease the total time to complete the application process and get the funds.
Wait for loan approval: The lender will evaluate your application and determine whether you're approved for a loan.
Receive the funds: If your loan is approved, the lender will deposit the funds directly into your bank account.
Don't get confused about getting emergency funds to cover your expenses. If you're in need of some fast cash, you need to understand the procedure and steps that can be taken to complete the application successfully so you can get the funds you need without any hassle.
Apply today and learn the benefits of getting a fast loan with us!
---