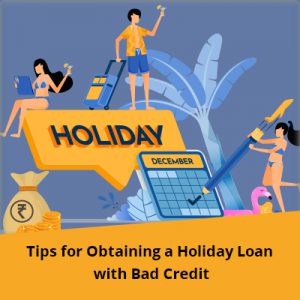 The holiday season is just around the corner, and while it's a time for celebration and joy, it can also put a strain on our finances. If you have bad credit, you may be worried about how to obtain a holiday loan to cover the extra expenses. But fear not because we're here to help you navigate the seasonal finances and find a solution that works for you.
In this article, we'll determine your needs and share tips on obtaining a holiday loan with bad credit. From understanding your credit situation to exploring alternative lending options, we'll cover all the bases to ensure you enjoy the festive season without breaking the bank.
Our goal is to provide you with practical advice that you can immediately put into action. So we've got you covered whether you need a loan for gifts, travel, or simply to make ends meet during the holiday season. Remember, your credit history shouldn't define your ability to enjoy the holidays. With the right knowledge and resources, you can make this season unforgettable without sacrificing your financial well-being.
Understanding seasonal finances and the need for Holiday Loans
There is an increase in spending during the holiday season. Festivities coming together, like Thanksgiving, Black Friday, and Christmas, can quickly add up to spending more money, and for those with bad credit, obtaining a holiday loan may seem like a daunting task. However, understanding the importance of seasonal finances can help you make informed decisions.
Recognizing that the holiday season is a temporary financial strain is crucial. It's a time when we want to make memories and show our loved ones how much we care. While it's important to be mindful of our spending, finding a balance that allows us to enjoy the festivities.
Identifying your loan needs and assessing your financial situation
Before applying for a holiday loan for bad credit, assessing your financial situation and determining your loan needs is essential. You can start by evaluating your current earning, expenses made, and outstanding debts. This will give you a clear picture of your financial standing and help you understand how much you can afford to borrow.
Consider creating a budget specifically for the holiday season. This will help you prioritize your expenses. Remember, it's important to be realistic. Taking on excessive debt can have long-term consequences on your financial health.
Christmas Loan for Bad Credit
A Christmas loan for bad credit is a type of loan designed to help individuals with less-than-perfect credit obtain financing during the holiday season.
The primary advantage of a Christmas loan for bad credit is that it provides an opportunity to access funds when you need them most. Whether you need money for purchasing gifts, traveling to your loved ones, or other holiday-related expenses, these loans can help bridge the financial gap even if you have bad credit.
Celebrate Black Friday and Thanksgiving with Holiday Loans
Celebrating Black Friday and Thanksgiving can be a wonderful time to spend with family and take advantage of holiday deals and discounts. This time helps everyone come together and shop while saving on their money because of the sales. Some choose to enjoy this season without a loan, but those who require some extra funds when dealing with bad credit to make the most out of Black Friday and Thanksgiving opt for personal loans for the holiday season.
How can I get Holiday Loans for Bad Credit online?
You can get holiday loans for bad credit online, as many online direct lenders specialize in providing loans to individuals with poor credit. These lenders understand that credit history is not the only factor determining a person's creditworthiness.
Obtaining a holiday loan online offers several benefits. The online application process is typically quick and simple to complete. You can fill out the application from the comfort of your home and receive a decision within a short period. Additionally, online lenders often have more lenient eligibility criteria, making it easier for individuals with bad credit to qualify.
Researching different types of Holiday Loans
When it comes to holiday loans, there are several options available, even for individuals with bad credit. Here are a few types of loans you may consider:
Personal Loans: Personal loans are a common choice for holiday financing. These loans can be secured or unsecured and used for various purposes, including holiday expenses.
Payday Loans: Payday loans are short-term loans that typically have higher interest rates but are easier to qualify for, even with bad credit. These loans are usually due on your next payday, so they are best suited for individuals who need immediate cash and can repay the loan quickly.
Installment Loans: Installment loans allow you to borrow a specific amount and repay it in fixed monthly installments over a predetermined period. These loans can be a good option for those who prefer to spread their holiday expenses over time.
The effective use of Bad Credit Holiday Loans this festive season
A bad-credit holiday loan can be used for various expenses during the holiday season. Here are a few common uses:
Gifts: One of the most significant expenses during the holiday season is buying gifts for loved ones.
Travel Expenses: Travel expenses can add up when visiting family or planning a holiday getaway. A holiday loan can help cover the cost of flights, accommodation, and other travel-related expenses.
Festive Decorations: Decorating your home for the holidays can create a joyful atmosphere. You can purchase decorations and make your home festive with a holiday loan.
Holiday Parties and Events: Hosting or attending holiday parties and events often comes with additional costs. From food and drinks to outfits and accessories, a holiday loan can help you enjoy the season to the fullest.
Tips for applying for a Holiday Loan with Bad Credit
Applying for a holiday loan with bad credit may require a bit of extra effort, but it's not impossible. Here are some ways to improve your chances of loan approval:
Improve your credit score: While it may not be possible to significantly improve your credit score before the holiday season, addressing any negative items on your credit report can help. Keeping up with payments can have a positive impact on your creditworthiness.
Shop for the best rates: Different lenders offer varying interest rates and terms. Compare terms and conditions from multiple lenders to analyze offers and ensure you get the best deal possible. While many lenders are available in the market, it's best to consider taking a holiday loan from a direct lender.
Be prepared to provide documentation: Lenders may require additional documentation to verify your income and employment. It will be easier to process your application if you have these documents available.
Get a Holiday Loan today with CashUSAToday
If you're in need of a holiday loan with bad credit, CashUSAToday can help. As a trusted online direct lender, we specialize in providing loans to individuals with bad credit. With a simple and secure application process, you can get the funds you need to make this holiday season a blast.
Remember, we don't look at your credit history to define your ability to enjoy the holidays. We look at other factors such as your current income, SSN, bank information, age, and contact information. As long as you fulfill our basic eligibility criteria, we, as your direct lender, will forward to help you get the funds.
CashUSAToday also ensures the safety of your borrowers by keeping the information safe and secure with 256-bit encryption. So, while you enjoy the holiday season, we work in the backend to provide you with the right loan solution. Happy holidays!