Whether a borrower suffers from bad credit scores or is in a need of emergency funds in a situation that cannot accommodate the delays associated with most traditional loans, a direct lender loan is likely to be the solution one needs. Installment loans that some direct lenders offer, can be ideal for many such situations and feature multiple attractive advantages that give them an edge over other products like payday loans.
A Word of Caution – Always Borrow only What You can repay on Time
Direct lender loans can be fast and easy to procure. Loans however, come with associated expenses and a borrower must always read and understand the loan offer documents carefully before accepting any loan. It is also important to choose direct lender loans only when they're truly needed and to avoid borrowing loans which are going to be difficult to repay, because being unable to repay a loan on time can make it increasingly expensive.
This is why, it is absolutely essential for any borrower to be sure that they're only getting into a loan that they're very likely to be able to comfortably repay on time.
Why Installment Loans are a Better Choice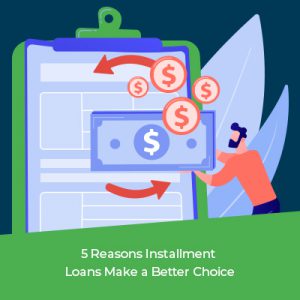 Installment loans offer many advantages over other debt products such as payday loans. 5 of the key benefits that make installment loans a better choice, include:
1. Repay Conveniently over Time
Repaying an installment loan is certainly much more relaxed than repaying for something like a payday loan that needs to be cleared all at once. Having the option to repay a loan over multiple installments can make transacting much more convenient for most borrowers who need to spread costs over a longer period of time.
2. Easily Available Online
There was a time when the only solution available for getting a direct lender installment loan was to look for a lender in one's neighborhood. Such lenders could – and often did – use their monopoly to their unfair advantage and extort borrowers. With online lending now having become rather streamlined and commonplace, such issues almost don't exist anymore and finding a trust worthy lender of installment loans online is now not a very big challenge and with CashUSAToday – you simply have a solution readily available, 24×7.
3. Available to Low-Income Borrowers
Installment loans are more readily available to low-income borrowers than payday loans, as they're easier to repay. Since they can be approved for as long as 12 months, the difference in amounts that can be available for borrowing can be truly significant for borrowers who belong to a low income group.
4. Easier to Qualify for
If one needs to loan a particular amount of money – say $500 – qualifying for that amount as an installment loan is always going to be easier than qualifying for it as a payday loan, since practically it is easier to repay any amount in multiple repayments than it is to do so all at once.
5. Advantageous for Bad Credit Borrowers
Bad credit borrowers typically do not get monthly repayment loans with each. However, some trusted direct lenders like us at CashUSAToday offer installment loans for bad credit borrowers. This not only provides them such an option of a relaxed monthly/bi-monthly repayment, but it also helps better when one is working on a plan to improve the credit score through timely repayment of a loan.  Since repayments are more in number, such a plan works more effectively in case of an installment loan.
Get an Installment Loan Now
Convinced that an installment loan is right for you? The next step is to apply for one, from a trusted direct lender. With CashUSAToday, you can get an installment loan online, that's approved in just a few working hours and gets credited in roughly a single business day. So why wait? Hit the "Apply Now" button and the form that proceeds, shall take just a few minutes to fill and send! There's no risk in filling an application form.
---